Grand Marais, Munising, Marquette, Copper Harbor
With Morty our new Mascot on board, our plan is to spend the month of July 2021 on Lake Superior. We know there is no way to see everything on the Lake. With the Canadian Boarder closed due to Covid concerns we planned to just visit a few areas. We also know the weather can get ugly and we could be stuck somewhere for a few days. Our goal is to spend time at Isle Royale National Park, to get there we made a few stops in the upper peninsula of Michigan on the way.
Grand Marais, MI – Woodland Park Marina – This was a great stop. They have wall space only, but its nice. Power, water and fuel. Restrooms are OK. Great little Up North town within easy walking distance. I would recommend eating one meal at "The DINER". The restaurant is a restored 1949 Paramount "Road King" dinning car. All stainless steel and glass. Ellen the owner is very nice and book author. Dorothy can't put her book "South of Superior" down. Dorothy had a homemade Pasty the crust was very flaky and buttery. The pecan pie was fantastic.
Its a short 2 mile bike ride outside of town to Sable Falls. Very nice waterfall and hiking trails.

On our way to the next stop, we passed by Pictured Rocks National Lakeshore. We were able to get fairly close and take some great photos. Its just a beautiful shoreline only visible from a boat. The colors, textures and depth created by various rock and minerals were spectacular. There were several tour boats, kayak companies and pontoon rentals taking passengers past the shoreline.
I have avoided taking pictures of all the lighthouses we pass. There is so much published material on lighthouses, however, this abandoned light on Grand Island caught my eye because it is all wood and still in good shape. It looks like something from the old west.

Munising, MI – Murry Bay Anchorage – Grand Island – we anchored in a little bay here largly because its been awhile since we were on the hook. There is a 1800s ship wreck that is in 10 feet of water and visible from your dingy, its marked by a couple of buoys. Glass bottom tour boats bring people out to see the wreck.
Bermuda. Also known as the Murray Bay wreck, the Bermuda was a 130 foot long wooden schooner that sank in the Bay off Grand Island on October 15, 1870. She is popular with sport divers because of her depth and condition. The wreck is upright in shallow water and the top deck is reached at just 12 feet. Three large hatches open to the cargo hold and two companionways. A large cabin trunk, where the cabin blew off while sinking is near the stern.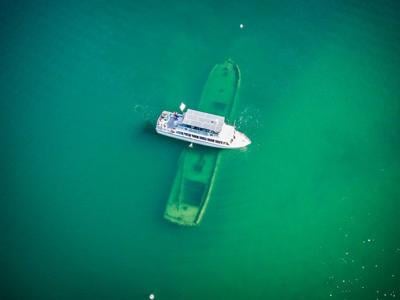 We did take the dingy into the town of Munising, MI, it is a nice little town that rebuilt itself on the tourism industry.
Marquette, MI – Cinder Pond Marina is probably one of the nicest facilities we have stayed at. Very clean with a pleasant staff. This is a working ore town. Great Lakes ships still arrive here to load iron ore for the steel mills. Ships dock at large trestle like structures and loads of iron ore drop from rail cars above, thanks to gravity. Unfortunately we missed a ship loading at 2 am in the morning, he was gone by daybreak.
A stop at Thill's fish house for fresh and smoked whitefish. We picked up 2 filets from a whitefish that slept in Lake Superior last night. Dorothy lightly seasoned them and they were delicious on the boat grill.
The next day was a perfect day for a little dingy ride. We went up the coast about 3 miles to find the black cliffs and watch the kids jump into the water. It's a local thing that has garnered some social media notoriety. People come from all over to jump 30 to 40 feet into the cold Lake Superior water. Dorothy and I were happy to just watch.
We had dinner in town at Lagniappe – a Cajun Creole Eatery owned by a chef who worked in New Orleans for many years. The food was awesome. I even took a Muffuletta home for lunch the next day.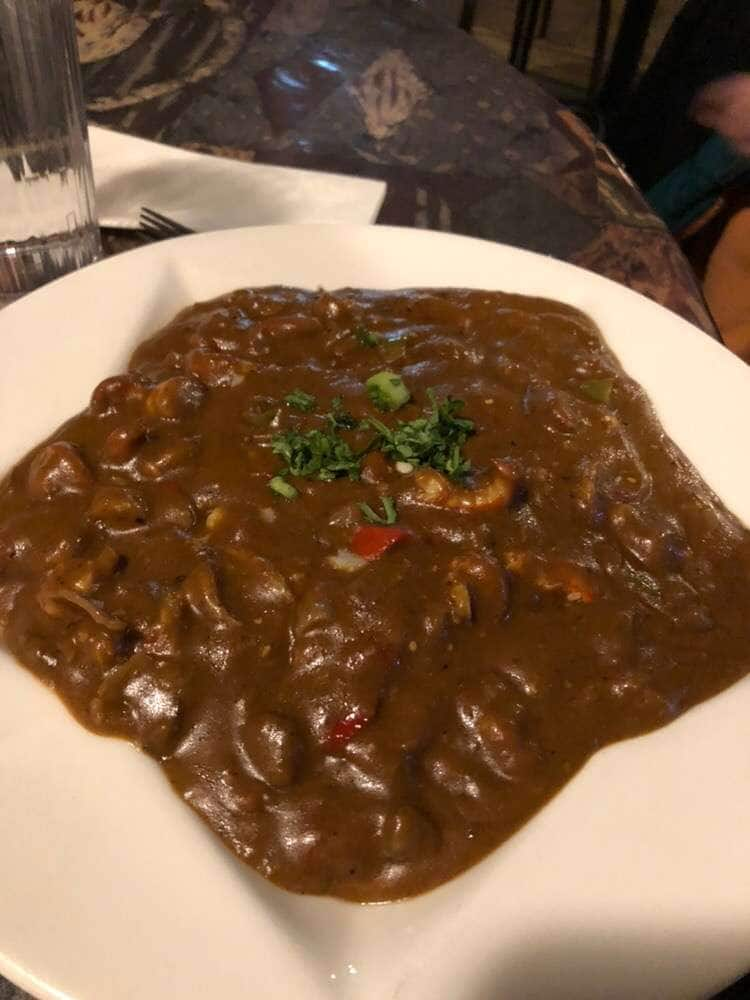 SEASONS is the "Pot – O – Gold"
A few sunset photos from this portion of the trip.